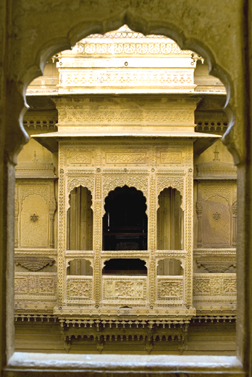 Kothari's Patwa Haveli has been privileged in welcoming and entertaining various visitors from all walks of life. Currently the Kothari's Patwa Haveli is accessible as a museum housing exclusive furnishings and accessories of the erstwhile patwas. A section of the Kothari's Patwa Haveli offers visitors a chance to shop for authentic Rajasthani textiles and handicrafts, from the trading of which the erstwhile patwas made a fortune. Kothari's Patwa Haveli is widely considered the 'Taj Mahal of Jailsalmer'. A visit to Jaisalmer is incomplete without seeing the intricately ornate Kothari's Patwa Haveli.

While the Testimonial section displays the assortment of the comments and views of some of the dignitaries who have visited the Kothari's Patwa Haveli, Lonely Planet in its 2009 edition has specifically appreciated the beauty of the Kothari's Patwa Haveli. The extract of the section is reproduced below:

"Most magnificent of all the havelis, its stone work like honey-coloured lace, Patwa-ki-Haveli towers over a narrow lane. It was build between 1800 and 1860 by five Jain brothers who were brocade and jewellery merchants. It's most impressive from the outside. The first of the five sections is opened as the privately owned Kothari's Patwa Haveli Museum (Indina/foreigner Rs 40/100, camera/video Rs30/40; 9am-6pm), which richly evokes 19th-century life. Next door is the forlorn and empty (apart from pigeons and bats) government-owned haveli (indian/foreigner Rs10/50). "